Disruption is Coming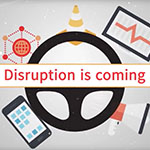 Innovators and innovation are everywhere in the insurance industry. Advancements such as drones, big data and artificial intelligence are disrupting the way we do business — and the way we communicate about insurance jobs to young people and career changers.
Insurance Innovators is a new video series designed to show off some of the often overlooked dazzle that lurks within insurance careers.
Just launched this month, Insurance Innovators is an engaging campaign that targets high school and college students and the industry at large to present the realities of a technology-driven industry that supports families, businesses and communities.
Staid and stodgy? Not a chance.
In the first of the series, Mike LaRocco, president and CEO of State Auto Insurance Companies, highlights how technology is disrupting the industry and relates how he has established a foundation and culture at State Auto that focuses on respect, flexibility, social responsibility and constant learning to fuel the company's journey to the future.
He notes that State Auto's "digital journey has only just begun" and that "speed is absolutely essential in the world we are entering." See Mike's video:
Another short video – "What's an Insurance Innovator?" – gets to the heart of innovation in this new age of insurance. Take a look:
The series will be posted to the Insurance Innovators web page as new videos are added. In the meantime, we invite you to share these videos on your organization's website and social channels to help celebrate Ohio's insurance industry and the innovators who are propelling the industry forward.
The IIRC is funded by:
Celina Insurance Group
Central Mutual Insurance Company
The Cincinnati Insurance Company
Grange Insurance
Hylant Group
Liberty Mutual Insurance
MAPFRE Insurance
Mennonite Mutual
Molina Healthcare of Ohio
Motorists Insurance Group
Nationwide Mutual Insurance Company
Ohio Insurance Agents Association, Inc.
Ohio Mutual Insurance Group
State Auto Insurance Companies
Wayne Insurance Group
Westfield Insurance Company