Lessons in Persuasion from an Unlikely Source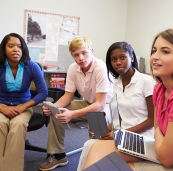 Who are the great persuaders of our day? Are they the top advertising execs who make their brands stand out from the competition? Are they the great attorneys who combine their knowledge of the law with their command of the English language to sway juries in their favor?
There are many great persuaders in America, but right now I'm riveted by a small group of young people whose collective persuasion is as unexpected as it is urgent: students at Marjory Stoneman Douglas High School (MSD) in Parkland, Florida.
Not everyone agrees with their agenda, as evidenced by some of the recent flak they've taken. But there's no doubt they have captured the moment. Despite many school tragedies before this, these students have made their voices heard, coalescing a #NeverAgain movement, the National School Walkout, a March For Our Lives event, and a nationally televised town hall meeting among high schoolers and a sitting U.S. senator.
Arguably, there's never before been more traction on this issue. So, what's different?
That question is debatable, but perhaps it has something to do with debate itself.
The Broward County Debate Initiative, a collaborative program between the Broward County Schools and local businesses, was launched five years ago in 15 high schools – including MSD – where, according to its website "speech and debate students learn research, logic, organization of ideas, manipulation of language, assessment of audience, self-esteem and engagement in world events."
Five years later, the Debate Initiative encompasses approximately 12,000 students. It is in all 79 middle and high schools in the district and is making its way to the elementary level.
Many of the students showing up at rallies and on the nightly news are participants in the initiative, and it shows as they make their case for being safe at school – a case that's prompting action from citizens, businesses and elected officials.
On the idea of a healthy society that thrives on civil discourse, these students are taking their elders to school, even in the face of some harsh criticism. The ones I've seen make their points in a measured, reasoned way, without shouting, without name-calling, without the stridency we see so often from others. Thanks to the Broward County Schools, they have learned what seems to be a lost art: respectful public debate on the issues.
Imagine these lessons in persuasion being taught to more students across more districts around our nation. What an impact it could make on our future workforce, our political dialog, and our ability to foster an informed and engaged citizenry.