Who Will Save Local News?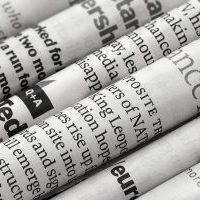 You don't need to be a journalist or a news junkie to know that traditional news has changed drastically over the past 10 to 15 years. Competition from online challengers has drained away newspaper readers, TV viewers and advertising dollars, which historically financed both newsgathering and business operations.
While all traditional media face this challenge, some of the most dramatic effects are on local newspapers. Some papers have closed their doors after a century or more of service. Some have ceased print production and gone to digital only, while others have stopped daily publication and now publish weekly.
The pressure on locally-owned papers, both print and digital, presents what Penelope Muse Abernathy, a journalism professor at the University of North Carolina, calls "the emerging threat of news deserts."
In a news desert, there is no one to report on the school levy, the factory opening, the road project or a string of neighborhood burglaries. There also is no one to play one of journalism's most important roles: as a watchdog on power.
As independent media outlets struggle for dollars, large organizations with more resources are stepping in to acquire them. To those like me who value local ownership, the first reaction is one of sadness. We miss the hometown media titans who, at their best, gave heft to community causes and momentum to needed change.
As I look deeper, though, I think about the alternative: news deserts. And I find encouragement in local journalism that continues to shine despite lack of local ownership.
In 2017, the East Bay Times in Walnut Creek, Califiornia, won the Pulitzer Prize for its coverage of a devastating fire at a party in a local warehouse. The Times is owned by the giant Digital First Media, Inc.
Andie Dominick of the Des Moines Register won this year's Pulitzer for editorial writing. Her paper is owned by Gannett, which also owns the Cincinnati Enquirer – the winner of a 2018 Pulitzer for its reporting on Cincinnati's heroin epidemic.
And Ryan Kelly won a Pulitzer this year for breaking news photography at The Daily Progress of Charlottesville, Virginia, which was acquired in 2012 by BH Media Group, a subsidiary of Berkshire Hathaway.
In the end, good journalists continue to do their jobs and good owners support local journalism, despite our changing media landscape.
It has become popular sport to take target practice on the media while losing sight of its essential role in a free society. You don't have to like everything you see in the news – or proclaim reporters infallible – to understand that, without the media as both educator and watchdog, we become a lot less informed and, potentially, a lot less free.
Who can save local news? We can. By subscribing, advertising, tuning in and staying informed. As citizens, it may be one of the most important things we can do.