Reflections on My Father's Legacy as We Celebrate 55 Years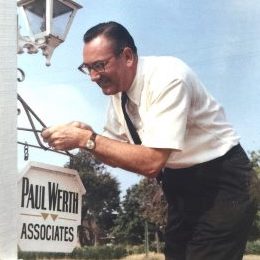 In many ways, 1963 was a defining year for America. The civil rights movement was in full momentum, marked by Dr. Martin Luther King's "I Have a Dream" speech. Sadly, it was the same year that President John F. Kennedy was assassinated in Dallas, shattering the innocence we seemed to have acquired during the 1950s.
Yet, the nation and the world continued to progress, in medicine, pop culture and society. It was the year that the Salk Polio Vaccine was first given orally on sugar cubes to people in the U.S. and the U.K., basically eradicating a devastating disease that had killed or crippled millions.
In America, ZIP codes were introduced, speeding the delivery of mail.
The Beatles stormed into the country, changing music forever.
AT&T introduced the first touchtone phones, signaling the demise of the rotary dial.
And NASA launched the world's first geostationary satellite, Syncom.
For me, however, 1963 was a year that changed the life of my father, my family and my own professional future. That year – none of us know exactly what date it occurred – Paul Werth hung a shingle outside a former candy shop reading "Paul Werth Associates."
My dad was a man who believed that words and ideas could build bridges between organizations and their stakeholders that, as Mike Harden, former Columbus Dispatch columnist, wrote in a history of our firm, "were as powerful as those of steel and cable that linked the land."
Dad knew then what we know now: Words matter, because the right words can lead to action benefiting our neighborhoods, our business community and individuals.
Dad's early clients included Worthington Industries, Dennison Engineering and Anheuser-Busch. He later added companies and organizations such as BancOhio, Homewood, CompuServe, Ohio National Bank, Battelle, Borden and Brown Steel. Every engagement was based on three things: relationships, trust and integrity.
So, when I joined my father here in 1986, the foundation had already been laid. My goal since then has been to build on his philosophy by forging personal and professional relationships that go beyond the paid work we do. Our idea about what it takes to build and preserve a reputation – the most important asset any organization owns – also has remained the same as his. While words matter, actions mean more. In other words, it's never about "spin," it's about helping others to do the right thing before, during and after things become difficult.
Today, our firm is blessed with a wide variety of clients in financial services, health care, education, energy, workforce development and more. Our associates often build personal relationships with the people and causes for whom we advocate. We are passionate about equity, better educational outcomes for our city's children, better health care, and a collaborative, civil community that works together for economic prosperity.
As I said, no one knows on what day of 1963 my father founded Paul Werth Associates. However, his birthday was May 31, and so our firm annually celebrates his birthday as our Founders Day. Today marks our 55th and what would have been his 100th.
For those of you who knew him, and for those of you who knew him only by reputation, please join me in lifting a glass to my father and his vision, which continues to endure.
And to the countless individuals and organizations that have contributed to our success – whom my father would thank if he were here – allow me to raise a glass to you.
Sandra W. Harbrecht
President and CEO