Tackling Innovation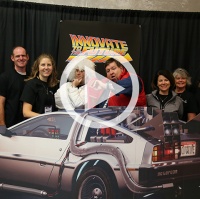 Challenge your role and make it more efficient.
Challenge long-standing assumptions by asking "why?"
Don't be afraid to fail.
This is just some of the professional advice offered by a group of insurance innovators at the Columbus CPCU Society Chapter's forum.
Dr. Jeff Sheen and Kyle Krumlauf from Grange Insurance joined Haley Smith from State Auto Insurance Companies, Yiem Sunbhanich from TNEDICCA and Andrew Farver from Westfield Insurance to discuss innovation and how the insurance industry is tackling it.
After the forum, the IIRC spent time with Sheen and Krumlauf to learn more. Sheen called out the many complicated issues insurance professionals encounter today. These include balancing privacy protection with the need for easy access to information and the need to anticipate the future of automobile insurance in an era where cars drive themselves. That's where innovation always begins – with a problem that needs to be solved.
In the second video of our Insurance Innovators series, Sheen and Krumlauf disclose their formulas for innovation in an industry that is riding a wave of change. Where there's a problem to be solved, an opportunity for improvement or a way to view something from another perspective, innovators thrive. And more importantly, everyone can be an innovator.
Watch video here.
Check out the Insurance Innovators page to find more videos of other insurance industry innovators. And, please share these videos on your organization's website and social channels to help attract talented professionals to Ohio's insurance industry and to celebrate the innovators who are moving the industry forward.
The IIRC is funded by:
Celina Insurance Group
Central Mutual Insurance Company
Grange Insurance
Hylant Group
Mennonite Mutual
Motorists Insurance Group
Nationwide Mutual Insurance Company
Ohio Insurance Agents Association, Inc.
Ohio Mutual Insurance Group
State Auto Insurance Company of Ohio
Wayne Insurance Group
Westfield Insurance Company