A Fearless Forecast for 2020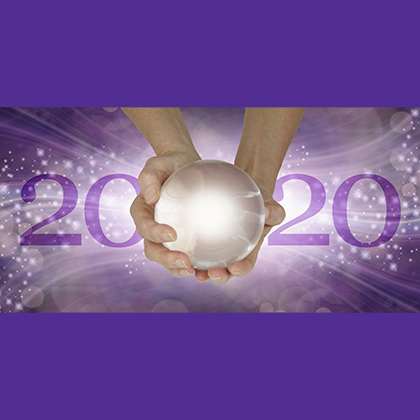 It's that time of year again when we dust off our crystal ball, peer into it deeply, and choose our best and boldest predictions for the coming year. So let's get to it: Werth's fearless forecast for 2020!
To see how we fared with last year's predictions, click here.
The polls will be right
On the night of Nov. 8, 2016, the future of the election forecasting industry looked about as promising as that of Blockbuster Video. The election of Donald Trump embarrassed esteemed pollsters as well as the data analysts who interpret them. But, four years later, look for political prognosticators to learn from their mistakes. They'll consider a wider range of battleground states, adjust their models to include voters who are hard to count and dismiss outliers that skew their forecasts. So come Nov. 3, 2020, you might not be happy, but you won't be shocked.
Disney+ will babysit your kids
Here's the thing about putting your children in front of a screen: It's really bad for them, but don't you deserve a moment to yourself? And as if the temptation to use technology as an alternative to parenting weren't strong enough, now there's Disney+ — the new Netflix-style streaming service that offers Disney classics, Pixar favorites, Marvel superheroes and three generations of Star Wars adventures. This new offering will not only take a chunk out of Netflix subscribers but also movie purchases and rentals. Meanwhile, buzy parents will console themselves with the fact that The Mandalorian is better for their kids than vaping.
Someone you love will drink Impossible Milk
With the recent successes of plant-based burgers, 2020 will be the year Impossible Foods or some other company rolls out a plant-based milk that tastes almost like the real thing. Any trip to the grocery store tells you that, much to the detriment for the dairy industry, people already are thirsting for milk alternatives. But soy and almond milks, charming as they may be, are a poor substitute when it comes to real dairy flavor. California-based Perfect Day says it already has perfected a vegan, lactose-free ice cream with milk proteins grown in the lab. An "Impossible" milk beverage is just around the corner.
Qatar won't be the only World Cup host
FIFA will uphold Qatar still being the host nation for the 2022 Soccer World Cup. But, in 2020, concerns with new construction, crowds, hospitality and cultural norms will push some of the games to neighboring nations. If the U.S., Canada and Mexico can jointly win the bid for the 2026 World Cup spanning all of North America, then a 30-minute flight from Doha to Dubai makes for a smart assist.
Cinema superheroes won't fly
Avengers: Endgame was the top grossing 2019 movie, earning $2.8 billion — $1.1 billion more than the No. 2 movie, The Lion King — while two other Marvel Cinematic Universe movies were No. 3 and No. 4. But much to the delight of legendary filmmaker Martin Scorsese, the comic book movie genre will very much come crashing down to earth in 2020. This will have less to do with Scorsese's comment that Marvel movies aren't real cinema than with the offerings scheduled for 2020. The 2020 lineup is headlined by The New Mutants, and the Eternals, whoever they are — and the disappointing box office return could have Marvel execs rethinking their decision to kill off Iron Man this year.
TikTok can't be stopped
Thought of as just a Gen Z lip-syncing app, TikTok, with more than 1.4 billion downloads to date, will crush Snapchat and overtake Instagram in popularity. TikTokers will kick YouTubers to the curb when it comes to gaining instant fame. We will see an increase in companies and celebrities flocking to the music app to attract the attention and spending dollars of this influential group. Meantime, Facebook will remain the king of all social media as college students who abandoned the app in high school and college come back now that they begin adulting.