Zooming Through the Pandemic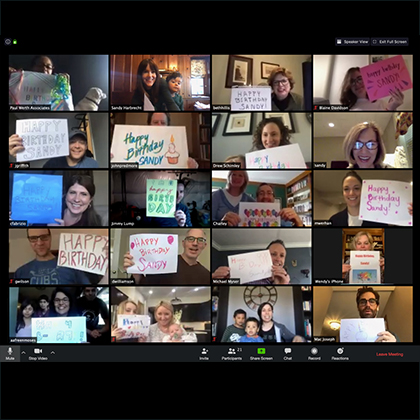 From our very first breath, a wail that announces our arrival,  we emerge into the world as beings who need physical and psychological connections.  As infants, we communicate in body language and nuanced cries. I'm hungry. I'm wet. Somebody picks us up and holds us tight. For most of us, that craving for social closeness remains.
We would be the first to say that had this pandemic occurred 20 or 30 years ago, our business challenges would have been much different. Telephones, emails, couriers and faxes might have gotten us through. But not to the extent technology has gotten us through in 2020.
Videoconferencing every day, all the time, has made it possible to stay close to our clients and our colleagues, see their faces and talk in real time. It has kept us productive at a time when productivity means keeping our businesses alive.
Our associates have not missed a beat, and perhaps have had conversations just as productive as we had with in-person meetings before. Video meetings move along quickly. They seem more focused. There is little "dead air" time. All the minutes are filled.
There's certainly a personal thread that runs through this new way of working. Unexpected joys surface constantly. The young child walking into view and climbing up on a parent's lap. A new puppy showing its face during a business meeting. The rock band T-shirt on a formerly jacket-wearing colleague that tells us where that person's musical allegiances lie. Scouting out other people's homes appeals to the voyeur in us all. 
Those are some things we have gained during this pandemic. But we also have been devastated by the loss of things we always took for granted.
An in-person meeting is never done in front of a mirror. But now, here we are, looking not just at a Brady Bunch grid of faces, but at ourselves, constantly self-conscious about our our hair and our homes 
We don't crave pictures of other people, but nearness to them. We want to look them in the eye, one-on-one. We want to stand next to them when we talk. We want to hand something across the table with a wink and a nod that no one but the two of us can see. We want to choose our seat at the table next to someone we like. 
The quick tilt of the head, the smile on the side, the sigh. The pause for reflection that happens all the time in face-to-face meetings but not online. All of these facets of human communication have been lost.
One of our biggest challenges as business leaders right now is keeping our teams connected. Our firm is doing it though daily morning meetings on Zoom and one-on-one meetings on Microsoft Teams. We are looking for fun ways to extend to our videoconferences the camaraderie that existed in the office. 
But it's not the same. And linking up with our clients online is not the human connection we want. We don't know yet when we can get back together. Health and safety are the most important things right now.  But just like you, we are tired of this. We can't wait to serve each other coffee.