Let's Get Real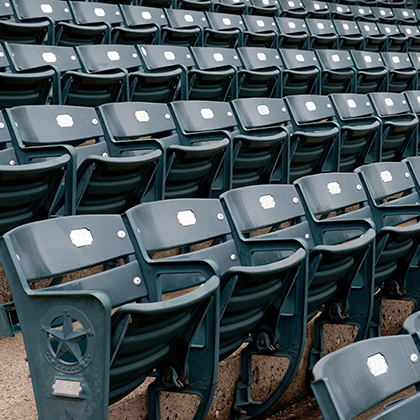 Professional athletics have returned to provide an occasional escape from the real world. But like the return of restaurants and schools during the pandemic, sports aren't quite like we remember them. The leagues and their media partners are doing what they can to keep you from noticing this by supplying artificial crowd noise and cardboard cutouts of people in the seats. 
Fox Sports took this notion a step further by adding digitized, animated fans to their telecast of Major League Baseball games, making the ballparks appear – at a quick glance – to be full of living, breathing people. One of the true baseball fans in our office reminded us that the limits of this technology have at times been on display, such as the July 30 game in Cleveland during which the camera caught Minnesota Twins slugger Nelson Cruz walking too close to the stands and passing phantomlike through the nearby fans.
We will admit that there's something sad about games being played in empty stadiums. But technical wizardry doesn't always lift our spirits. For every nostalgic recast of the late broadcaster Harry Caray singing "Take Me Out to the Ballgame" from Wrigley Field's video board, there seems to be a moment of overreach that insults our intelligence.
We're not picking on baseball. Too many quality organizations engage in the delusion that we wish to be deluded. It isn't just about keeping the bad news from getting out–which can create its own problems–but also refusing to acknowledge what already is common knowledge. While some people want to hear only what they want to hear, most of us want to hear – and to see – the truth.
You can actually score points for candor by saying what everybody knows, but nobody expected you to say. That's not because people want organizations or leaders to be embarrassed or humbled. It's because authenticity communicates respect.
We can't wait for fans to once again fill stadiums and arenas, but for the time being, we prefer to see them as they are rather than as we wish they were.