Werth Welcomes Our Newest Colleagues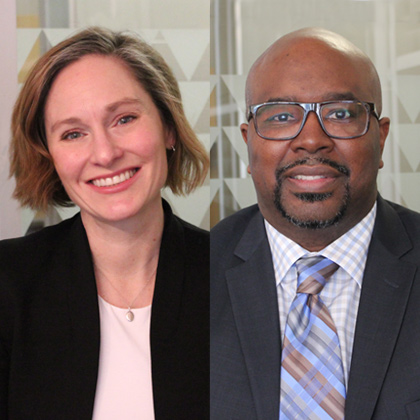 At Werth, we have one defining strategy: We build our team with experienced and talented people who are passionate about solving problems and creating opportunities for our clients. As 2022 begins, I am pleased to introduce you to our two newest colleagues.
Laura Arenschield, a gifted communications strategist, joins us from The Ohio State University, where she worked with the university's lead communications team to tell the story of OSU's science research. Before that, Laura created content designed to connect donors to the Wexner Medical Center, the James Cancer Hospital and Solove Research Institute, and the OSU College of Medicine.
Laura also had a distinguished career in newspaper journalism including four years at The Columbus Dispatch, where she led coverage of science and environmental issues. Laura is known for her ability to interpret complex information and shape it into compelling stories, all while building engagement strategies to ensure the broadest possible audience for those stories.
The passion and integrity Laura brings to her work are tremendous assets to our team. We look forward to connecting Laura with our clients who can benefit from her talent and experience.
Kerelle Sampson brings to Werth a deep background in visual storytelling, with experience developing content on multiple platforms for television stations in Durham and Raleigh, North Carolina, as well as here in Columbus, where he most recently was morning executive producer at WBNS-TV. In that role, he oversaw editorial content on all platforms with an emphasis on morning newscasts.
Kerelle's prior public relations work includes developing content strategies and monitoring their performance for clients at 919 Marketing in Holly Springs, North Carolina. In addition, Kerelle supported outreach and community engagement as communications director for Parents for Educational Freedom, a Raleigh-based advocacy organization.
Kerelle's proficiency in business, not-for-profits and journalism makes for a potent combination of skills and insight. Along with being a gifted communicator, Kerelle is an excellent team builder, leader and strategist.
Please join us in welcoming Laura and Kerelle to the Werth team, and let us know if you would like to meet them.