Not Everything is Polarized at the Ohio Statehouse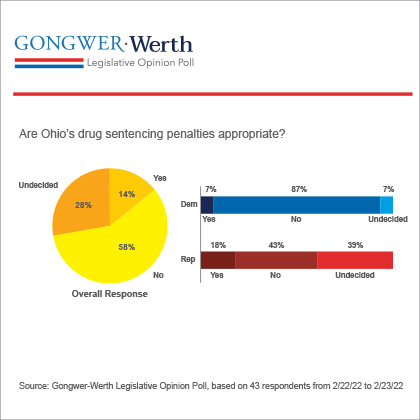 A year ago, we launched an endeavor with Gongwer News Service to measure the views of Ohio state legislators on the issues they are facing at the Statehouse. Our theory was that businesses, nonprofits, associations and the government affairs community could benefit from a window into the mindset of policymakers — especially before the policy is made. And so, we developed the Gongwer Werth Legislative Opinion Poll, the first of which was released in September of 2021.
Over the past year, putting our questions exclusively before state representatives and senators, we have been fascinated with the responses we've received on matters such as education, energy and economic development. We've also thrown in occasional lighter topics, such as who was most likely to win the U.S. Senate primaries, or which college football team was most likely to make the NCAA playoffs.
We ask responding legislators to identify themselves only by political party. By focusing on party rather than how individuals think, we reduce any hesitancy to participate and can truly measure not only how the General Assembly overall views an issue, but also the breakdown among Republicans and Democrats. In other words, we can see how politically polarizing each issue is. 
If you've followed our poll results at gongwerwerthpoll.com, you know that most issues are fairly partisan. The most extreme example of this is a question we asked the week of June 7, 2021, about whether Ohio should expand opportunities to produce oil and natural gas on public lands. One hundred percent of Republicans said yes, and 100% of Democrats said no. The other most politically polarizing topics have been the support of renewable power, legalization of recreational marijuana and COVID-19 vaccine requirements — all three of which are overwhelmingly opposed by Statehouse Republicans and supported by Democrats. 
However, we've also seen glimpses of common ground. In May, we saw bipartisan ambivalence about getting Ohio more involved in addressing race in American history: 30% of Democrats and 43% of Republicans thought the state should be more involved. In February, we learned there is uncertainty about capital punishment among both parties: More Republicans (46%) than Democrats (38%) want to eliminate it, but also more Republicans (39%) than Democrats (13%) want to keep it. (See national coverage of these results here.) 
Perhaps most encouraging were answers to a question we asked in September of 2021: whether lawmakers have made a friend in the opposing party. One hundred percent of respondents of both parties said they had. Here's hoping that the more they talk and listen to those new cross-party friends, the more political common ground we can find. In the meantime, please check out the Gongwer Werth Legislative Poll and let us know what results you find most intriguing.