2022 Fearless Forecast in Review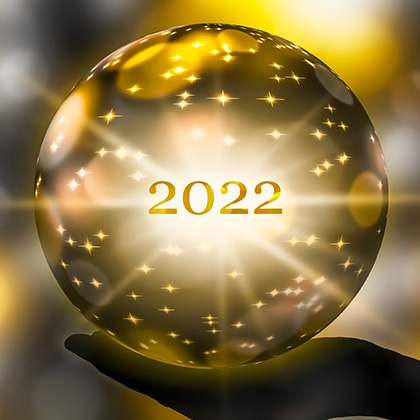 Last December we gazed into our crystal ball, muttered a few unintelligible words, and conjured up a number of predictions for 2022. Here's how we did. (Hint: We crushed it.)
To see our predictions for 2023, click here.
The Public Will See Through Meta
We predicted that Mark Zuckerberg's rebranding of Facebook would not boost warm feelings about the platform, but that the blatant cynicism behind this empty marketing ploy could lead the public to trust Facebook even less. Indeed, trust in Facebook fell to 18% in 2022 from 27% in 2021. Now, to be fair (and we're nothing if not fair), Facebook didn't become "Meta" to its users, and trust in social media is falling among all major platforms.
The Number of Nonprofit News Organizations will Increase by 25%
As for-profit news organizations continue to struggle, nonprofit newsrooms are stepping into the void. (One of the latest is Signal Cleveland, formed in November to ease the loss of the Plain Dealer). The Institute for Nonprofit News says the number of nonprofit newsrooms has doubled during the past four years, but did not provide a year-to-year this year. The most recent 2021 data available showed that revenue grew to an estimated $400 million in 2021, up from $300 million to $350 million in 2020. 
 2022 Will Be the Year of the Labor Union
Rising labor unrest and organizing activity in 2021 caused us to predict that 2022 would be a big year for unions. We were right. 2022 saw numerous high-profile strikes or threats of strikes — for example, teachers in Columbus went on strike for the first time in nearly five decades. Meanwhile, the National Labor Relations Board reported that between Oct. 1, 2021 and Sept. 30, 2022, union representation petitions increased 53%.
 Scientists Will Prove the Viability of Nuclear Fusion
Nuclear fusion creates clean energy and could be the answer to all our power needs, we said in our predictions for 2022. We predicted that scientists in 2022 would overcome a frustrating challenge to making fusion power a reality: the ability to produce more energy than it takes to create a reaction. While it may still take years to perfect technology and make fusion economical at scale, the U.S. Department of Energy announced Dec. 13 that a federal laboratory had achieved a "net energy gain" from an experimental fusion reactor. 
Your Pumpkin Spice Latte Will Have a Price in Cryptocurrency
2022 was less like a rollercoaster for crypto and more like the Tower of Terror. Since Bitcoin and other crypto currencies hit record highs in November 2021, more than $2 trillion in assets has been lost. Retail outlets in other countries such as Venezuela and Germany are more likely to accept crypto, but we've yet to see retailers in the U.S. list crypto prices, let alone accept it. The November bankruptcy of global exchange FTX has done no favors for crypto confidence. Nonetheless, there is reason for optimism: You can buy your Donald Trump trading card with crypto.
Movie Theaters Will Close, Even as the Pandemic Recedes
While movie attendance declined in 2021 to about half of pre-pandemic audiences and more movies continued to show up exclusively on streaming services, the theater as we know it remained alive and well in 2022. Despite pockets of theater closings, widespread, permanent closures seem not to have happened as audiences returned to cinemas and theater revenues ticked up. And despite lingering challenges, investors seem hopeful. Just last month (December), Amazon announced it plans to spend $1 billion a year to make and distribute between 12 and 15 movies for theaters each year. 
Fans Will Be the Losers of the MLB Labor Dispute
Major League Baseball owners and players ratified a new labor agreement in March that delayed the start of the season, but allowed for a full 162-game schedule. Your view of the expanded playoff field would probably vary, depending on whether you're a fan of the Phillies (who snuck in under the new format and ended up in the World Series) or the Dodgers (who had MLB's best record but got bounced after waiting through the newly created Wild Card round). The long-term ramifications of the agreement remain to be seen. Next year's rule changes including pitch clocks, limited pickoff throws and traditional field positioning should make for a speedier and livelier game. However, we got a sneak peek at baseball's new financial landscape this past month as big-market teams handed out monster contracts — including three for $300 million or more — like Halloween candy. That's great for those superstars and their families, but maybe not for fans of smaller market teams, like the Reds and the Indians, who could be priced out of the market for marquee players.