60 Years and Counting!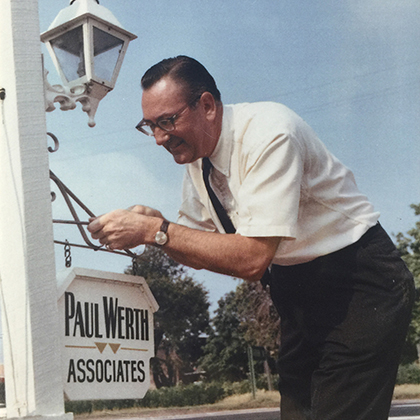 Paul Werth Associates began its journey in May 1963 when my father opened a one-man public relations firm on Olentangy River Road. Our 60th anniversary, which we'll be celebrating throughout 2023, has given us a chance both to mark an important milestone and to reflect on how the public relations profession — and Werth — has evolved.
Public relations, in one form or another, has existed throughout history (consider The Federalist Papers in the late 1700s an early persuasion campaign).
However, for the first half of the 20th Century, PR was seen primarily as gaining publicity through the news media. There were no formal ethical standards or codes of conduct until the 1950s, when the Public Relations Society of America — formed in 1947 — adopted some for the first time.
PRSA today describes our profession this way:  Public relations is a strategic communication process that builds mutually beneficial relationships between organizations and their publics.
The definition is broad, as it should be. Our work has ranged from helping companies relocate and acclimate to central Ohio (Honda of America Mfg., American Electric Power, Borden Company, Chase Bank and Anheuser-Busch among them) to advocating for positive public policy related to education, healthcare, environment and workforce development.
To be effective, we've evolved, just like every successful organization. We added more robust research, digital, design and public affairs capabilities. As social media proliferated, we became experts in those disciplines, telling our clients' stories beyond traditional news outlets. All the while, we've built important relationships that allow us to connect our clients with those who are vital to their success.
My father was instrumental in modernizing the public relations profession by serving in national leadership positions, supporting accreditation standards, refining codes of ethics, and preparing the next generation of public relations professionals. We've followed his lead by also serving in industry leadership roles and encouraging our associates to stay abreast of emerging trends and to continue honing their knowledge and skills. This is especially important to our firm, which made the decision some 20 years ago to hire almost exclusively senior-level talent to manage our client relationships and do the hands-on work.
Werth is one of the few remaining strategic communications firms that were operating in Columbus in 1963, and the only one that exists under the same family ownership. I think my father would be proud of how we've evolved. But he would be even prouder of the enduring partnerships we have built with friends, associates and clients. Without all of you, the one-man shop that began in an old candy store might have turned out much differently. We hope you'll join us in celebrating that friendship in 2023.
Stay tuned for more celebration announcements. In the meantime, you can view a timeline of Werth milestones here.