A Salute to Tournament Surprises … And What They Have Shown Us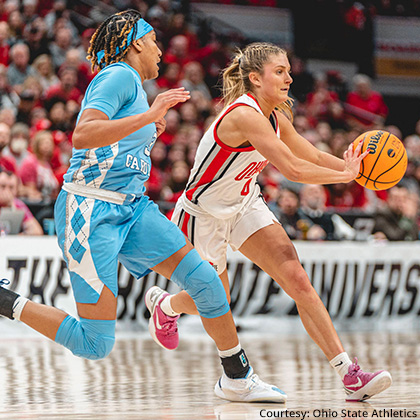 Even if you're not a sports fan, it's hard to ignore the hype that arrives every March as 68 teams each in men's and women's college basketball begin their quests for a national championship. 
The National Collegiate Athletic Association dubs its tournaments "March Madness" for a reason. Every year, teams that nobody gives a chance end up defeating seemingly stronger squads, crushing their opponents' dreams while moving one step closer to their own.
Unpredictability is a hallmark of both the men's and women's tournaments. And yet this year's men's tournament may be the craziest ever (despite the show sharpshooter Caitlin Clark has put on in moving her Iowa team to the women's Final Four, and ninth-seeded Miami's unlikely run to the Elite Eight). The four highest-rated men's teams — the number one seeds — didn't even make the Elite Eight, with one of them — Purdue — losing its first game to 16-seed Fairleigh Dickinson. In fact, every men's team seeded 1, 2 or 3 in their regions is now watching the tournament from home.
By contrast, San Diego State, which had never won a Sweet 16 game until this year, is in the Final Four. So is Florida Atlantic, which had never even won an NCAA tournament game. They join Connecticut and Miami in a Final Four that includes no Big Ten, Big 12, SEC or Pac-12 schools.
When something this weird happens, you can count on the "experts" to tell you why. One theory is that students now able to profit from their Name, Image and Likeness sponsorships are staying in school longer, thus making weaker teams more experienced. Another is that changes to rules allowing transfers to play for their new teams immediately, instead of sitting out a year, have bolstered rosters more quickly.
However, there is one reason that sounds so simplistic and clichéd that it has gone largely unmentioned: Every team involved in an upset win this year believed it had the talent to win. They refused to listen to experts who told them the favorites would cut down the nets. Instead, these players put in the work to get better, embraced their roles, didn't let setbacks get them down and, most of all, believed in themselves, their coaches and their teammates. 
The world is so full of negative energy these days that it's easy to feel the game is rigged against us. March Madness teaches just the opposite. It teaches us that naysayers know nothing, talent exists everywhere, and that no goal is too large for those who dream big, work hard and embrace the challenge. 
And so, let me be the first to salute the next national champion, whoever that may be — as well as those who didn't win but who gave us something more important: a reminder of what makes our own success possible.